Hi, I'm Peter (Vietnamese name: Hưng). My pen name is Peter Hưng.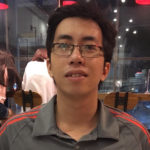 I'm an avid learner and reader.
The area that I'm most passionate about is education as I've never ceased to be amazed by human potentials.
In addition, as I read widely, I know a bit of here and there from different areas. I'm especially fond of making connections among ideas and concepts that come from different fields.
Background
I obtained my Bachelor degree in Computer science from School of Computing, National University of Singapore, with a minor in Maths.
Work
With more than 13 years of experience in IT and 8 years in online education, my core technical expertise lies in software (full-stack) and education (learning process and delivery).
Some education projects that I've contributed to include Luyện thi PRO,  Tiếng Anh Mỗi Ngày, etc.
As fun projects, I've also built an NLP tool to automatically insert Vietnamese accent marks; and a website for non-Vietnamese to learn Vietnamese online.
Sports is also one of my enduring hobbies. I used to play soccer and some martial arts. But recently, I mostly play just table tennis.
Contact
I'm interested in connecting with people who share my passion in education and personal development.
If you're also passionate about education (students, teachers, entrepreneurs, etc.),  let's connect! Please drop me a note at: peter AT this domain.
Have a nice day.